How to Turn a Failed Recipe into Mouth-Watering Perfection
I am by no means a fancy cook. I like simple recipes and real food that is healthy and tastes delicious. BUT sometimes my meals don't come out Pinterest perfect and that's a-okay.
One of my New Years resolutions for 2019 was becoming a vegetarian. For me personally, this journey is about not harming animals and overall wellness. If you're with me, fantastic, if not, I'm not going to beat you over the head with it.
Anyway, I reached out to a couple of my vegan and vegetarian friends for some great cookbooks. They recommended Thug Kitchen and Forks Over Knives. I have been absolutely loving both of these - especially Thug Kitchen (this cookbook just speaks to me).
So last Wednesday I attempted to make Moroccan Style Shepherd's Pie from Forks Over Knives and I failed miserably.
The recipe called for eight cups of veggie stock. EIGHT. Seemed like a lot to me but I just shrugged my shoulders and went for it.
My shepherd's pie was starting to look like soup and this is the point where I'm freaking out. I throw it in the oven and just pray that the stock gets absorbed into the sweet potatoes and beans and everything else.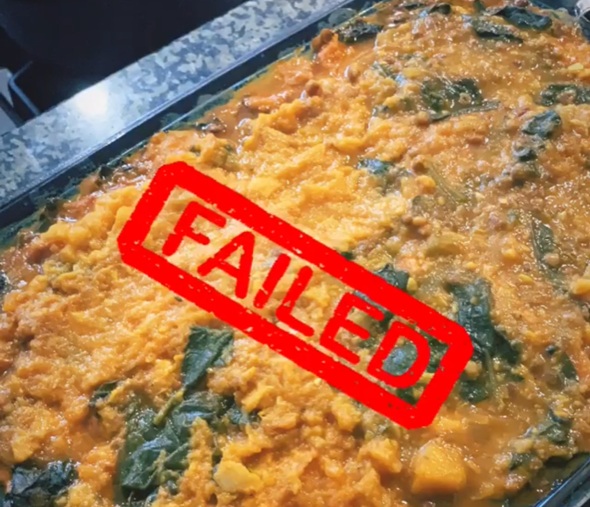 I wasn't so much upset that this recipe didn't turn out, as I was about the fact that it literally made enough to feed a football team.
I quickly thought about what could save this mess. Something to absorb the liquid as much as it could and something crunchy. My go-to's were basmati rice and oven-roasted chick-peas with some slap ya mama seasoning, salt and pepper.
Once the rice and chickpeas were finished, I dished out some rice and took a heap of my disastrous shepherd's pie and topped it with the roasted chickpeas, chopped green onion, dill and sriracha.
Meal made. Husband happy!
Now, I was lucky in the fact that this recipe was more like a sauce so it was very versatile for me to use in other dishes. I was also able to use this in tacos.
FYI, I will find any way to turn almost every dish into a taco so fellow taco lovers, you will feel right at home here.
For the tacos, I added the rice, my new sauce, roasted chickpeas, lettuce, green onion, Herdez gaucamole salsa (this stuff is delicious but be warned it is spicy!), and sour cream.
Point made here, before you toss out the thing you just slaved over for the last 45 minutes, get creative and think of the dishes that you like and find a way to incorporate it into something else. You'll feel better knowing you saved your meal and didn't waste food. Of course, if you pretty much set your food on fire and had to spray it down with the fire extinguisher, just try again next time.
Happy cooking!